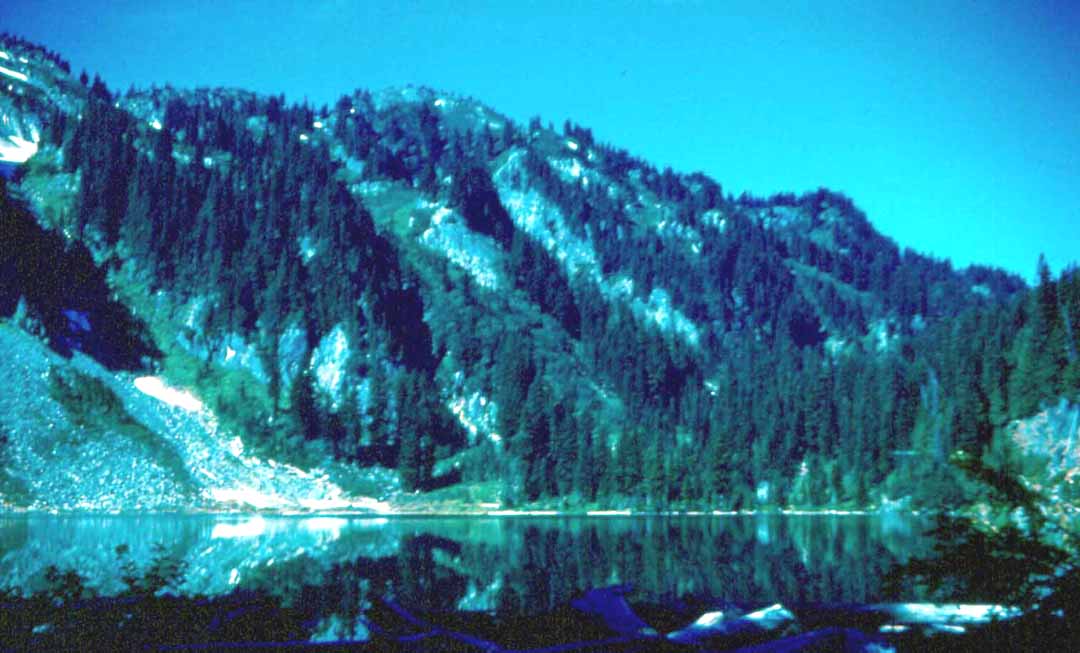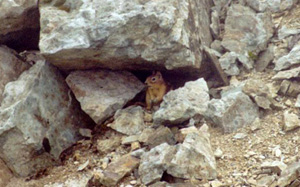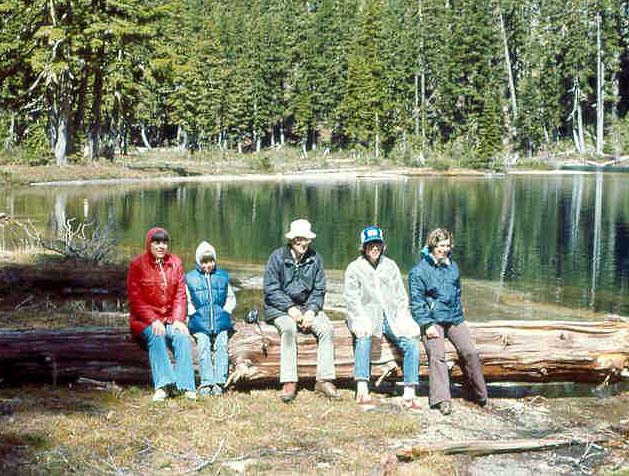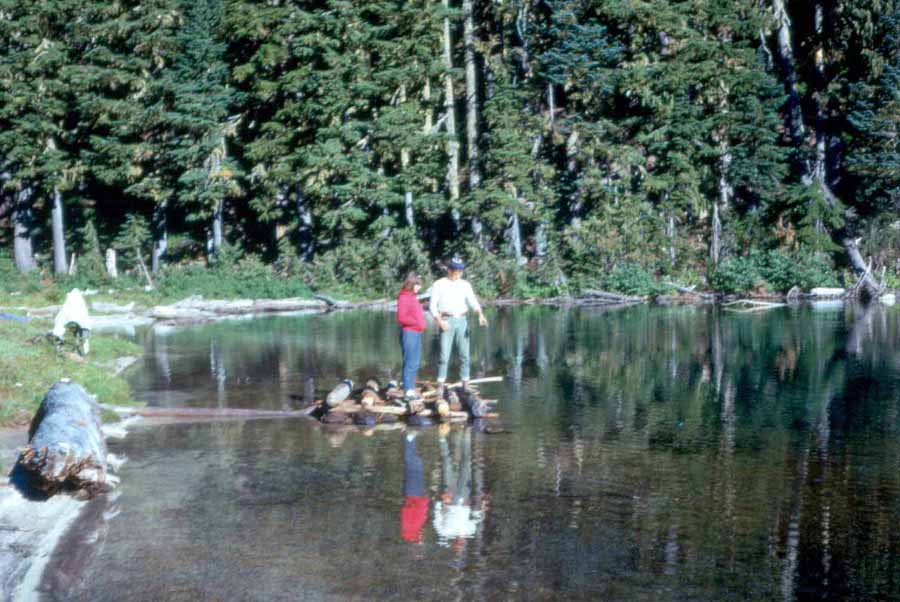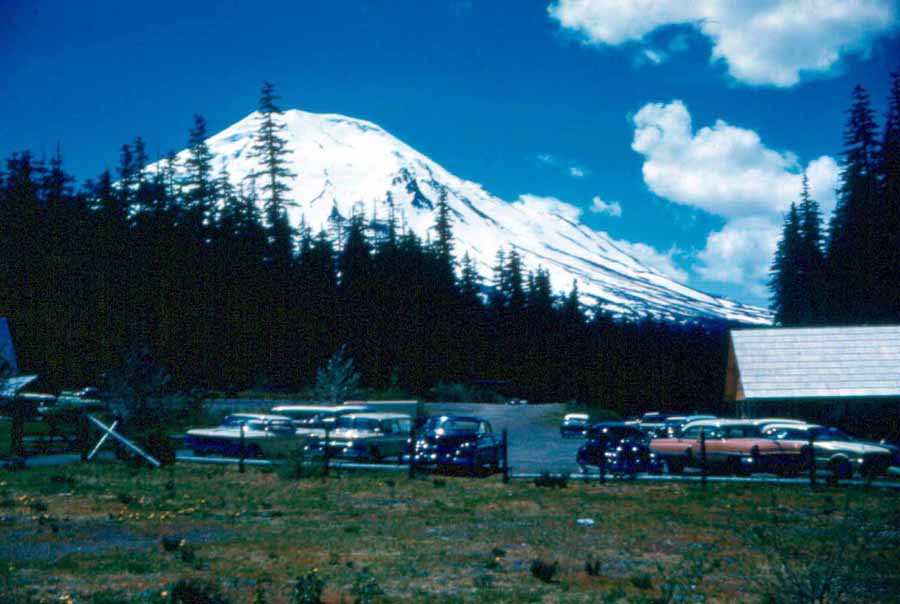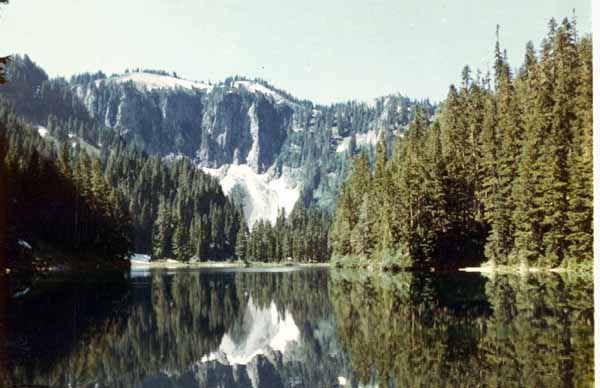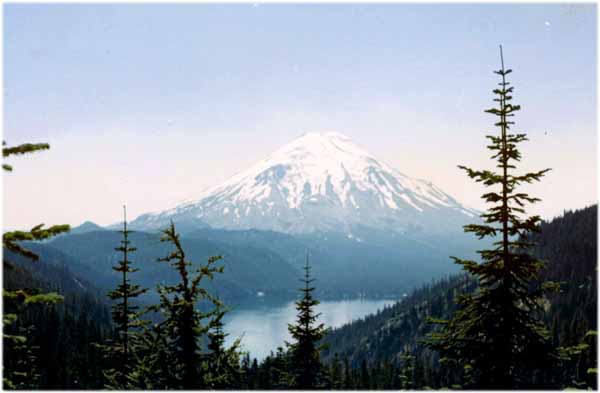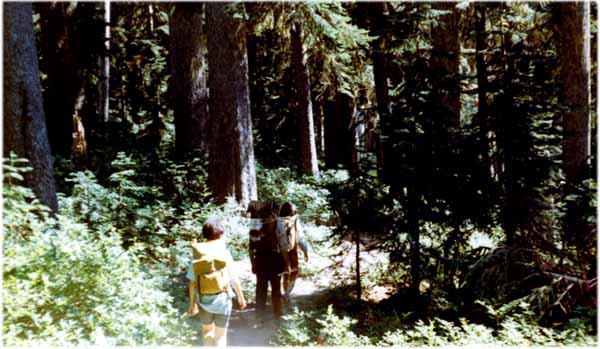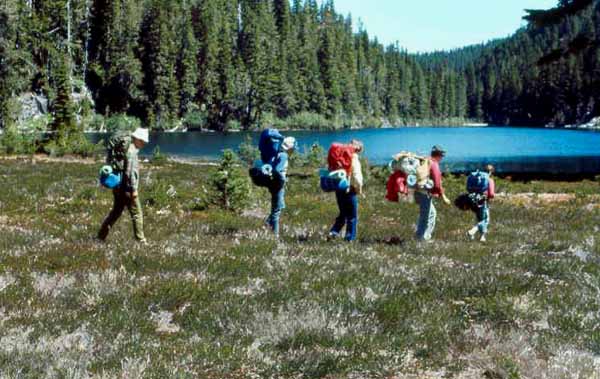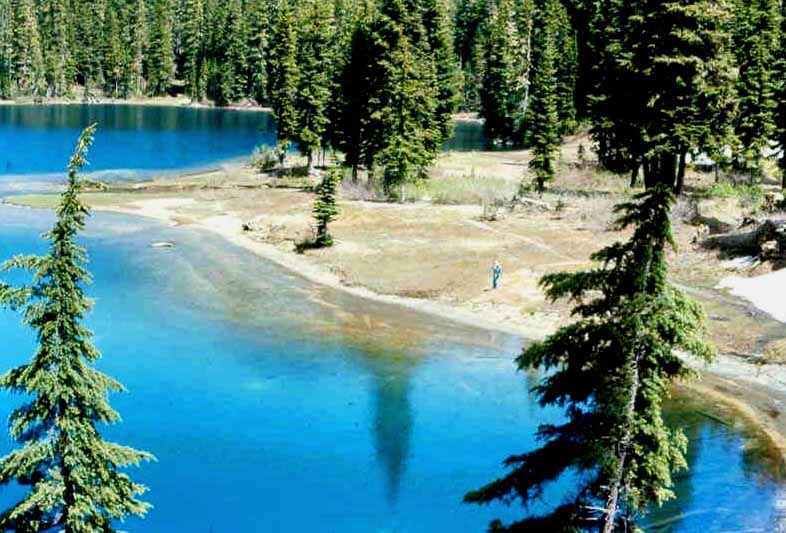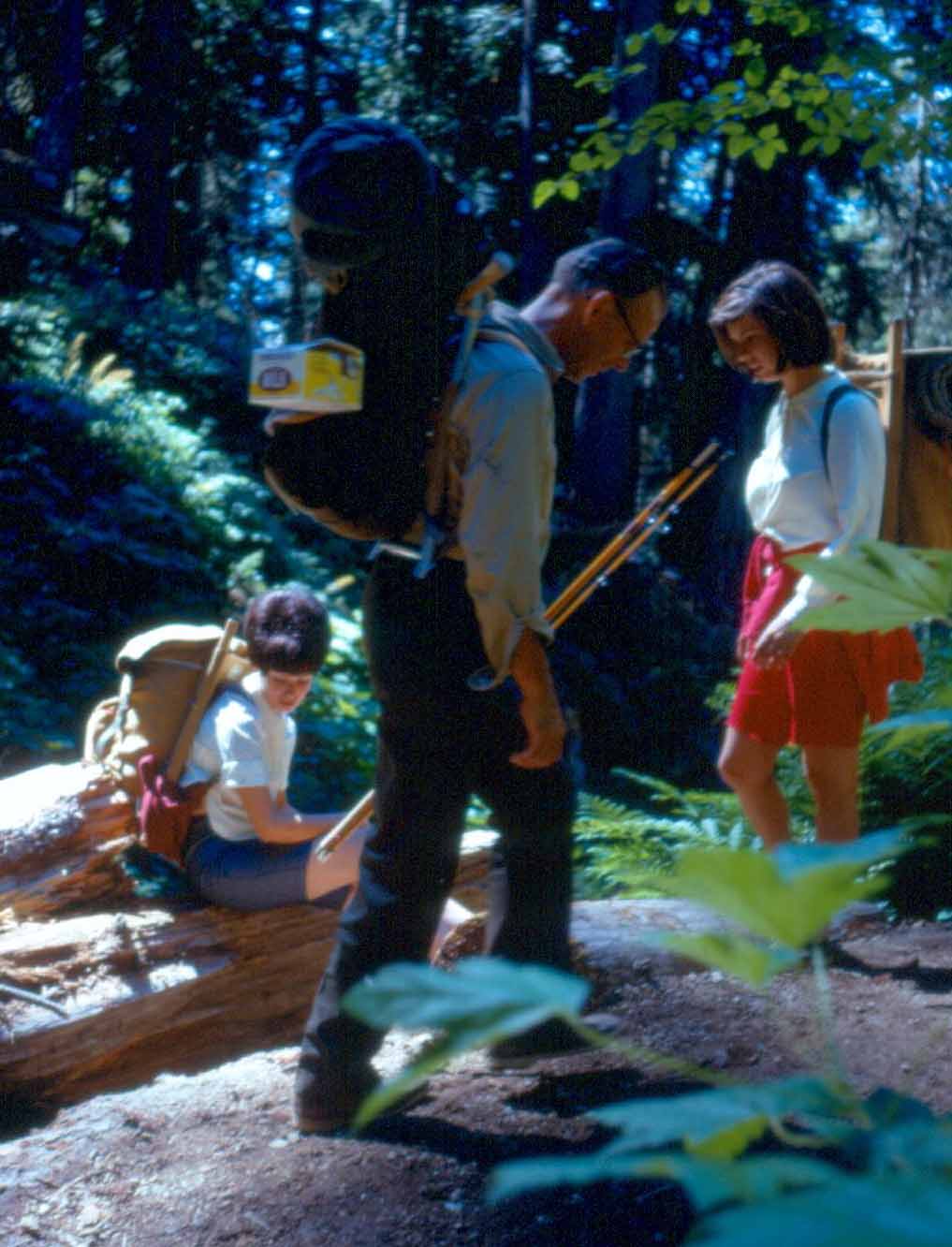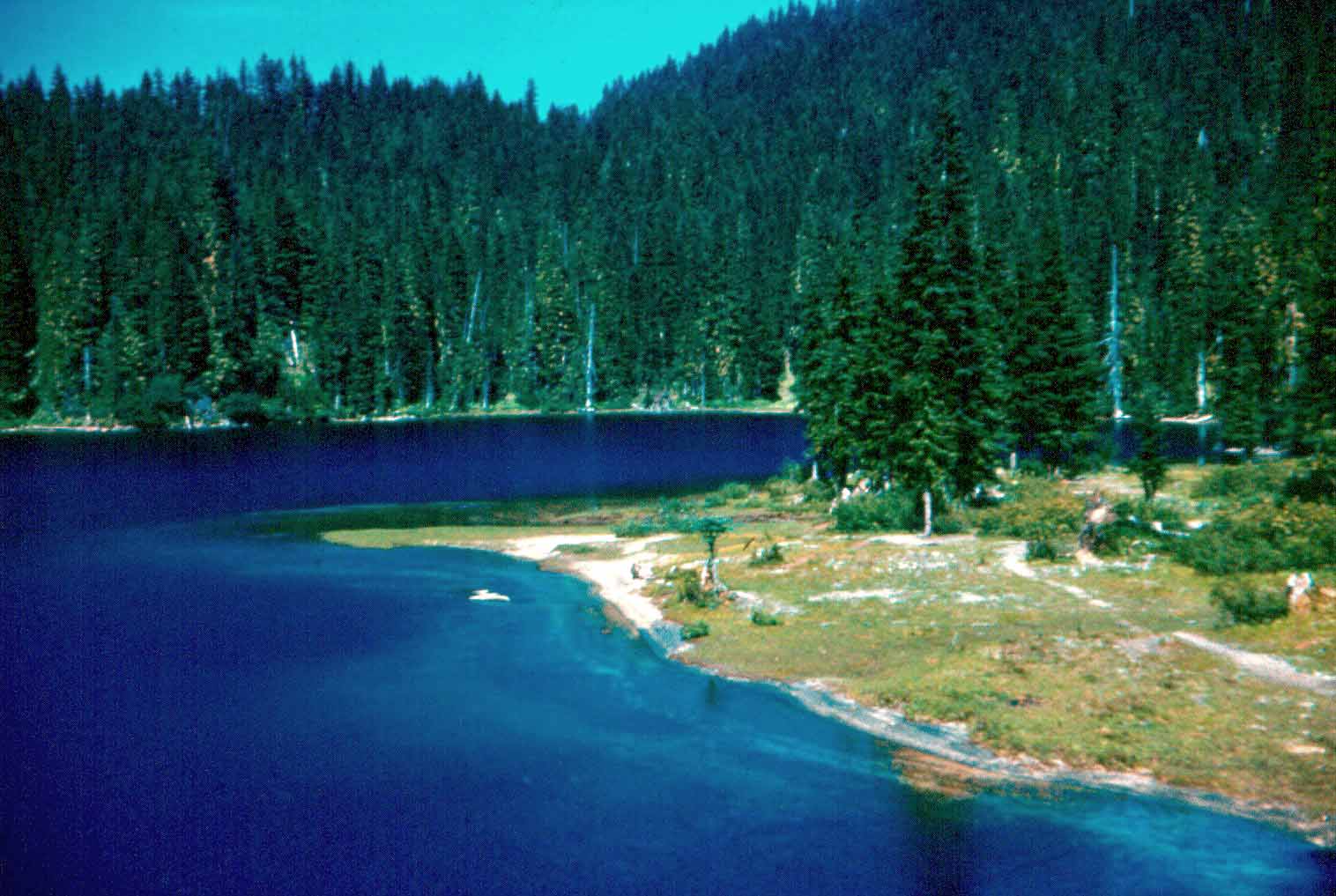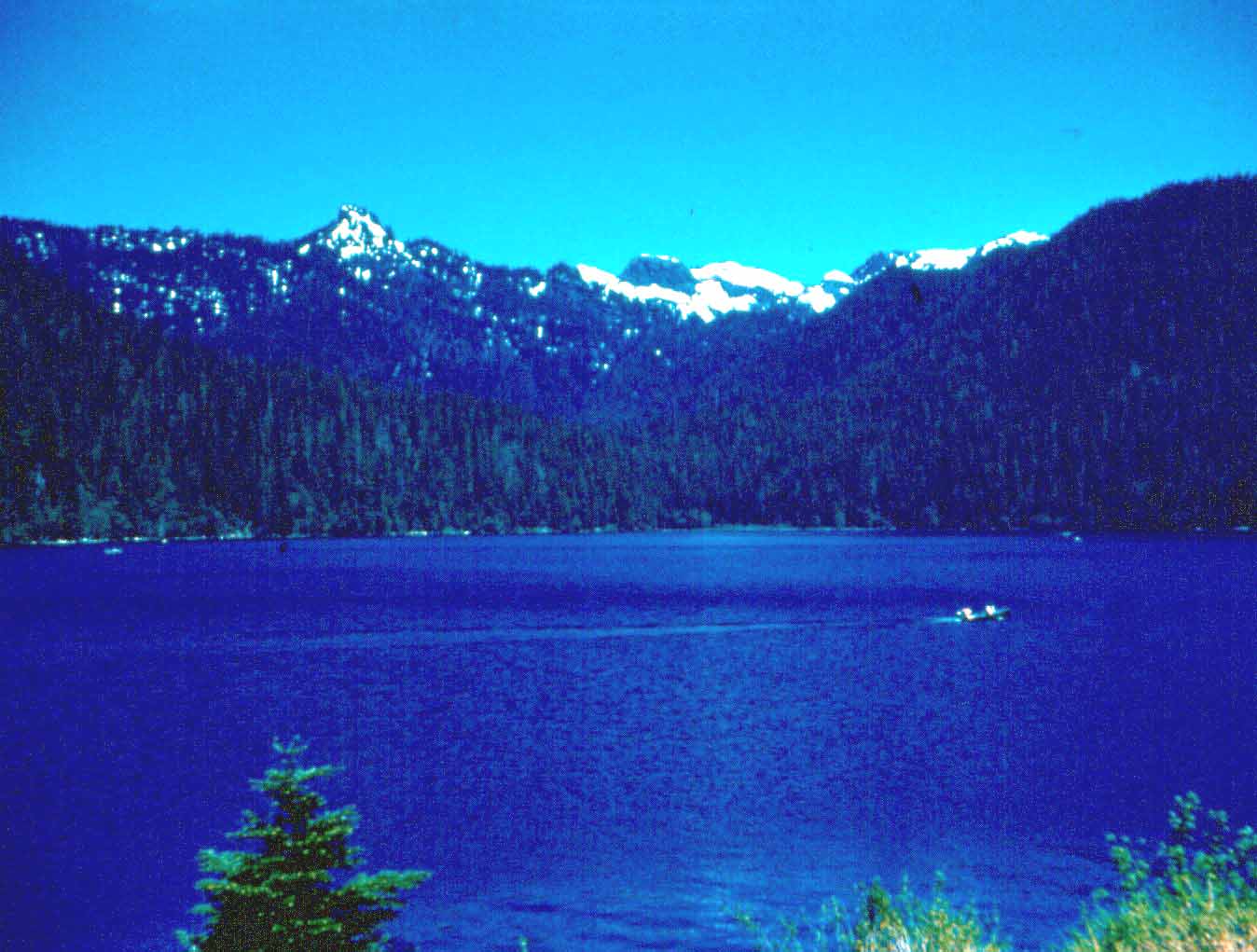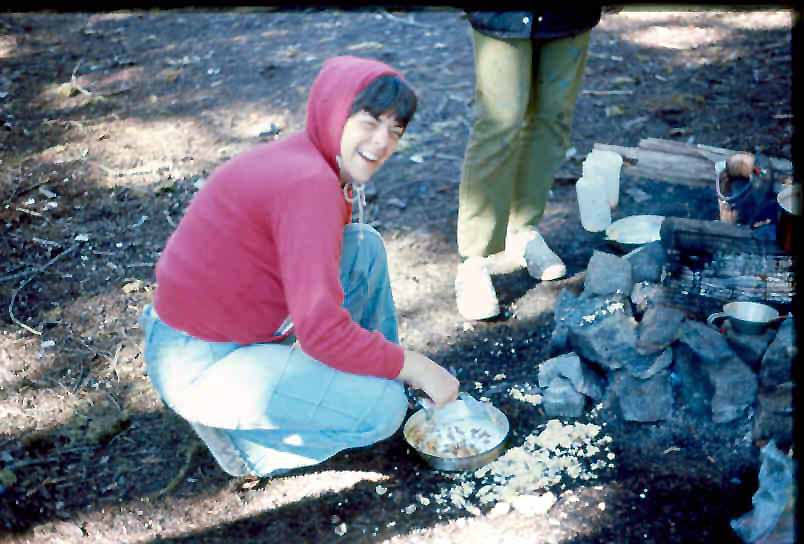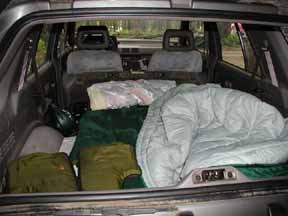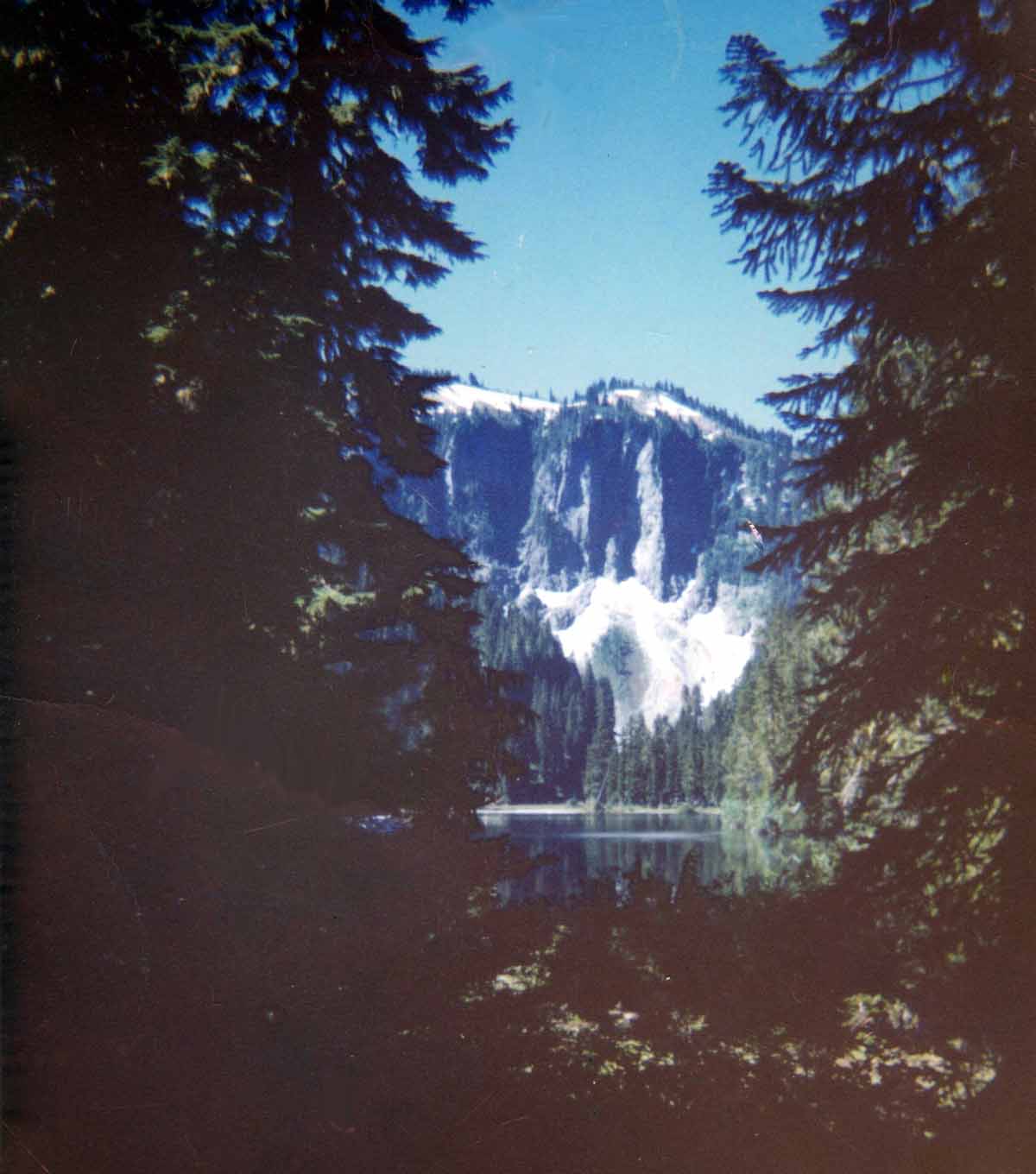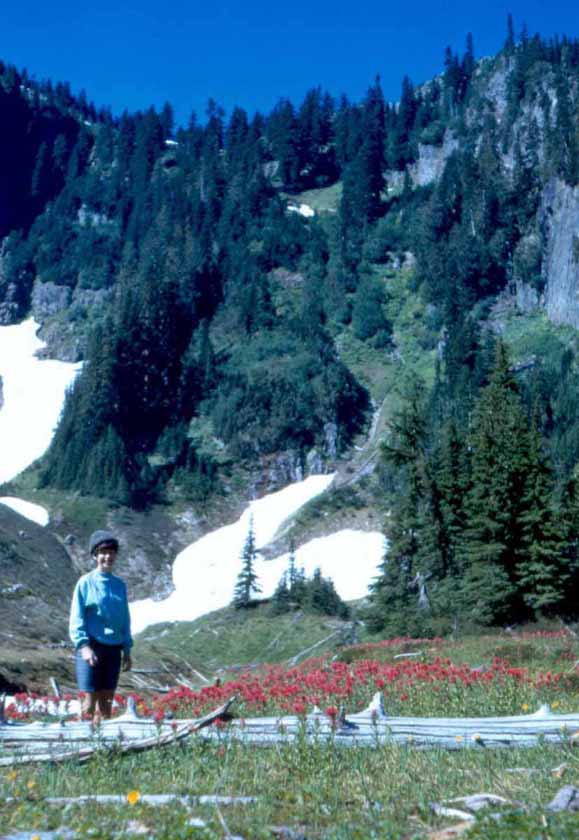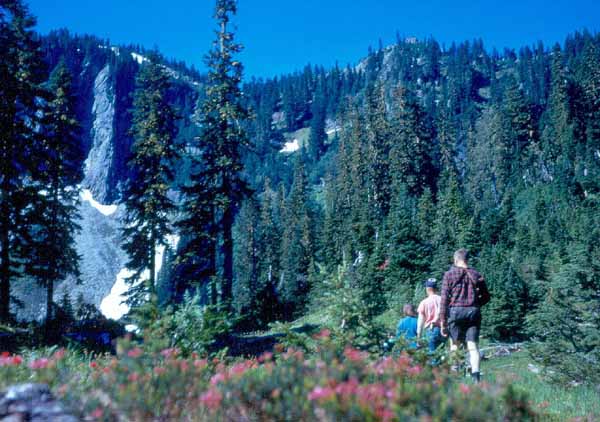 If you have read other parts of my web site, you know I grew up in the shadow of Mt. St. Helens (right, as seen from Coldwater Peak in 1961).   Hundreds of square miles of uninhabited forests, dotted with lakes (
map
) and an ample network of Forest Service trails made the area a backpacker's paradise.
  I first started taking advantage of that uninhabited forest when I was 16 as a summer-time employee of the State Department of Natural Resources.  Part of the job involved "back-packing" axes, saws, and other equipment over miles of state-maintained trails, keeping them open for access in case of fires.

    What started as work soon became a passion when I traded axes and saws for a hatchet, sleeping bag, and fishing pole, and struck out with friends for remote lakes.  Our goal was usually one of the many lakes just north of Mt. St. Helens.  The starting point was Spirit Lake where we would often try to convince Harry Truman, whose boathouse and parking lot you see at left, to take us by boat to the other side of the lake (photo at right) and cut maybe a mile off our trek.  I don't remember ever being sucessful even though I had worked for Harry for a brief period in 1957 maintaining his fleet of fishing boats.

    Normally, we would have to be dropped off at "Duck Cove," the most distant point a car could travel around the lake.  Below is the view to the north from Duck Cove.

After a couple years backpacing into the lakes for a weekend stay with co-workers, my brother and sisters (left)became interested in getting into the "high lakes" as we called them.  They often credit me with getting them started on what turned out to be a lifelong hobby, but I maintain it was in our genes and they would have eventually wandered off on their own.

Soon the trail began to get steeper (right) as we headed north to traverse Norway Pass and Bear Pass before slipping down into the first of the lakes on the other side of the ridge.  On the way up, we passed Coe Mine and other mines, long ago abandoned.  In the early years, we saw very few other backpackers and a few who went in on horses.  I have always been thankful that ATVs weren't around at the time to ruin the serene landscape and foul the pristine air. 

    In the summer of 1967, just before I departed for
a year in Vietnam
,  all the brothers and sisters, their spouses, and Dad made the long trek into Boot Lake (which you will see later).  The photo below shows Birgit, my wife, taking a break, sister Sally looking like she has given up and is headed home, and Dad, at 57, chugging right on past us!  The photo below was taken  at Norway Pass as I recall, about four miles into the hike, most of them pretty much straight up.  When I was 57, I tried to imagine myself making that same trip and still being able to breathe after four miles...and Dad hadn't even broken a sweat at this point!  And even more amazing...we must have convinced him to carry the bait...the container fixed to his backpack is full of worms! 

Six miles into the hike, you come to Bear Pass which marks the highest point on the trek unless you go off trail later.  From Bear Pass, you can look directly south to Spirit Lake and Mount St. Helens.  On an exceptionally clear day, you can also see Mt. Hood in Oregon.  The photo at left shows our starting point, Duck Cove, as a light spot on the far, left side of the lake.
After gazing southward, wondering how you ever made it to the top of Bear Pass, you turn 90 degrees to the left and past Jack teetering on the edge of a cliff, and see Mount Adams, thirty miles to the east.   Halfway between Bear Pass and Mount Adams are several other lakes, including Lake Tahklahk, photos of which you can see in my
Photo Gallery.
  If you make another 90 degree turn to the left, facing directly north, you see Mount Rainier...four major mountains from one spot!  I remember how disappointed I was the first time I  saw the clear cut in the distance as I topped Bear Pass.   That's nothing compared to same view after May 18, 1980...not one tree you see here was left standing!

A few switchbacks down the other side of Bear Pass you come to the first of the "High Lakes," curiously named Grizzly Lake...plenty of black bear in the area, but no grizzlies.  As Dad always said, the cougars kept them killed off.  Grizzly was six miles from Duck Cove and hardly a challenge for young legs...we never camped there.  Another disappointment was one day coming down the hill to find a new, rustic...but professionally made...picnic table and outhouse at Grizzly!  What kind of backpacking adventure is that!!

The photo at the left was taken in 1959, the one at the right, in 1967.  Nothing much changes in the wilderness...as long as nearby volcanoes behave.  We planned our trips for good weather which we obviously had for this visit judging from the calm water.  Boot's main draw was the ideal camping spot at the far end of the lake, straight ahead in this shot.

    There was no trail maintained around Boot (photo at right) and one had to either contend with some pretty heavy forest on the right side, or with rock-strewn slopes on the left side.  We always chose the rocks.  The going was tough, but the end of the first day's eight mile trek was in sight and spirits were usually high for that last quarter mile!  

There is no way to adequately describe the far end of Boot!  If I could build my log house anwhere I wished, it would be about 100 feet to the left of where Sal and Jack are testing the raft, or the weary group is resting in these photos.  As you can see, the water is crystal clear, the air is fresh (you'll have to imagine that one), the weather is beautiful (at the moment), and the scenery is out of this world! 

Jan...bless her heart...wasn't much of a fisherlady (no longer true, by the way!) but what a wonderful cook!!  And I'm not just saying that because even shoe leather tasted pretty good that far from civilization!  She is probably working up crepe suzettes, or eggs Benedict here.  Well...maybe not.  But we did splurge with bacon and eggs now and then...and lots of fish! 

    We camped within yards of the lake, near an inlet stream that served as running water, and snowbanks that were the fridge.  Further beyond the lake and up a short incline was what we called "the meadows," an open, flat, and heavily flowered getaway.  Daily, we would hear elk bugling in the meadow...occasionally we would see them high on the rim above the valley.

    Because bear and cougar were a potential threat, we always packed "heat."  Better to have fought and lost than not to have fought at all...which is exactly what would have happened if we had taken on a beast with the .22 that Dad is shooting here!  But it made us feel better to have something along that would at least make a racket, and sometimes we carried something a little bigger.

    On every trip, there came that sad day when we had to return to civilization.  At right you see the group (I was in Germany during this particular trip) leaving Boot, heading back across the rock field, unseen to the right, and hitting the trail again at the far end of the lake.  If there was still time, we might  continue further into the wilderness to the next lake...Panhandle...also a favorite.

These shots show what I called the "peninsula" at Panhandle Lake.  It could just as well have been called a delta as a feeder stream went right down the middle of it.  I took the photo at left in 1959, and Jack took the one at right in 1977.  Again, you see little change...things happen slowly at 5000' elevation.

    The photo at right shows one of the feeder streams coming into Panhandle.  It's water was pure and cold and we had no reservations about drinking and cooking with it without need to filter or chlorinate.  Today, you would be risking a nasty case of ghiardia in many natural waters.  This noisy little stream was the outlet from Holmstedt which was about a quarter mile southwest of Panhandle ...straight up, with no trail, and no camp spot.

    Meals were always a challenge, made so partially by the difficulty of finding wood that was dry enough to burn.  With last winter's snow still on the ground in July, and next winter's snow starting in early October, wood didn't get much of a chance to dry.  This 1959 photo shows my good friend, classmate, and co-worker, John Givens fixing what I'm sure was a great meal.

Just to the west of the Panhandle peninsula was a sheer rock bluff (right photo).  Facing directly west, it was always particularly photogenic early in the morning as shown here.  Just off from the bluff, the water was deep and therefore cold. and oxygen-rich, but strangely enough, I don't remember ever catching a fish there.  To see Sal and Jen fishing by this cliff, click
here.
    At the top of the rocky creek bed, this is what greeted you...Shovel Lake, so called I am sure because it looked like God had removed a single, gigantic shovelful of earth, filled the hole with water, and left sheer rock walls in every direction except at the far end of the lake.  In the rock slides seen

here and in similar slides at the other lakes lived colonies of pikas (also known as conies, or rock rabbits).  They made all kinds of noise including a very entertaining and enchanting whistle that echoed around the lake.  To learn more about the pika/cony/rock rabbit, click on his image abpve.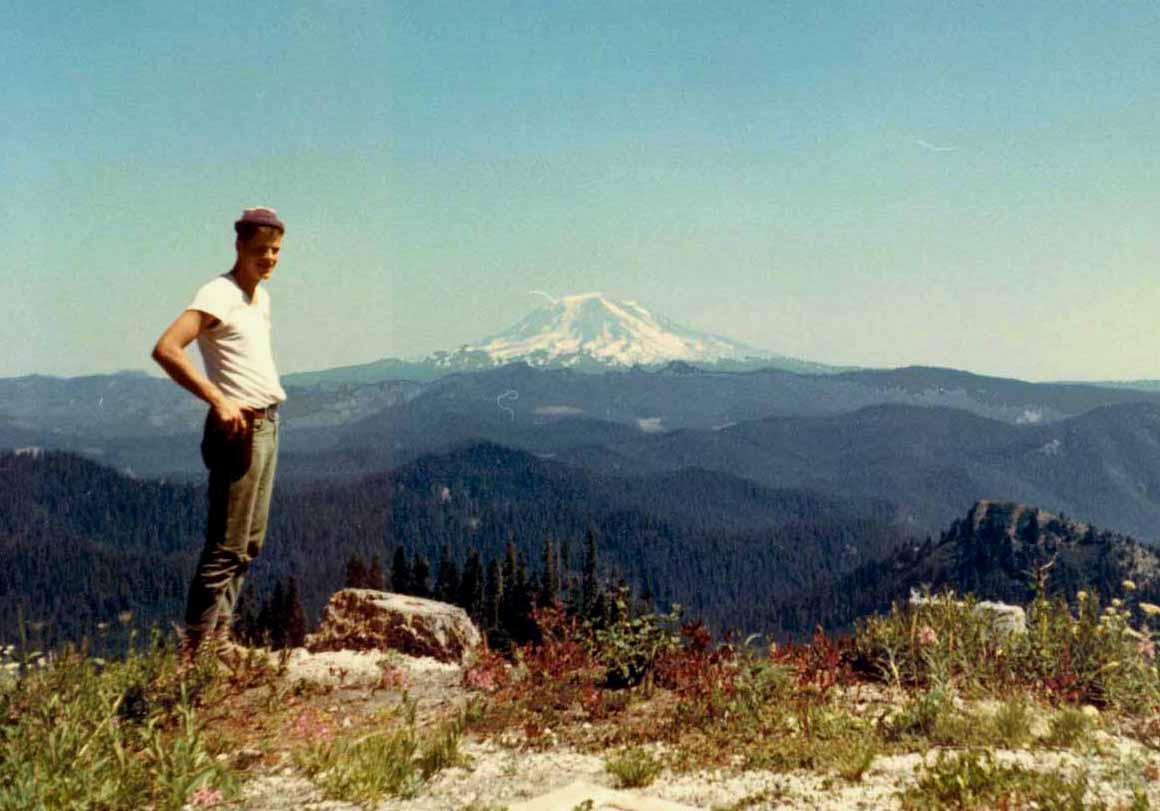 These lakes were an important part of my younger life and that of my siblings, nieces, and nephews.  I am very sorry my own son, Curtis, didn't have the opportunity to visit them before they were disturbed by the eruption of Mount Saint Helens...my Army family was never stationed anywhere near Washington until 1986, six years after the big blow.  Maybe this summer I'll pack a lunch and walk in to see what they look like now...and maybe Curtis will tag along to carry me out.  In the meantime, my camping gear is the back of my SUV as shown at left.

    A mile and a half or so after Grizzly came two joined lakes called Twin, Chain, or Obscurity Lakes, depending on which map you are viewing.  My first night in the high lakes was spent there and I thought I had found paradise.  But compared to Boot Lake, the Twin Lakes were rather unimaginative.  Your first glimpse of Boot is the scene at right.  It may seem strange to you, but that is my favorite photo on this page...undoubtedly because Boot was my favorite lake, a ranking I think my fellow backpackers share.  Why that particular photo and not, perhaps, the next?  This one was taken on my first trip into the lakes.

        The high lakes are deep...probably 50 to 100 feet...and being at the 5000-foot level, very cold, even in the warmest days of summer.  Nevertheless, we always braved a swim, although I don't remember anybody doing laps!  The lakes were also full of trout, mostly eastern brook, but with some cutthroat and rainbows.  Like most backpackers, we travelled  light.  Before super-lightweight tents,  that meant sleeping under a thin sheet of plastic (right) which also served as a place to get out of the rain when our good-weather  plan backfired.  It also meant spreading your sleeping bag on a pretty thin layer of boughs, using your packsack as a pillow, wrapping heated rocks in a sweatshirt to use as a toe warmer in the sleeping bag, and sometimes fighting mosquitoes until midnight.  Ahhh....paradise!!

The photo at left may be the only one I have of myself at the high lakes.  It's fitting that it would be in my beloved meadow.  Lupine surrounds me, and Birgit stands in a field of Indian paintbrush at the right.  The little yellow flower in the foreground might be a tiger lily.  Bear grass also dotted the meadow.   At the right is my wife, Birgit, standing in the same meadow.

The photos on this page were originally 35-mm slides.  My HP 5370C scanner did a good job on them, but don't expect any photographic masterpieces on this page!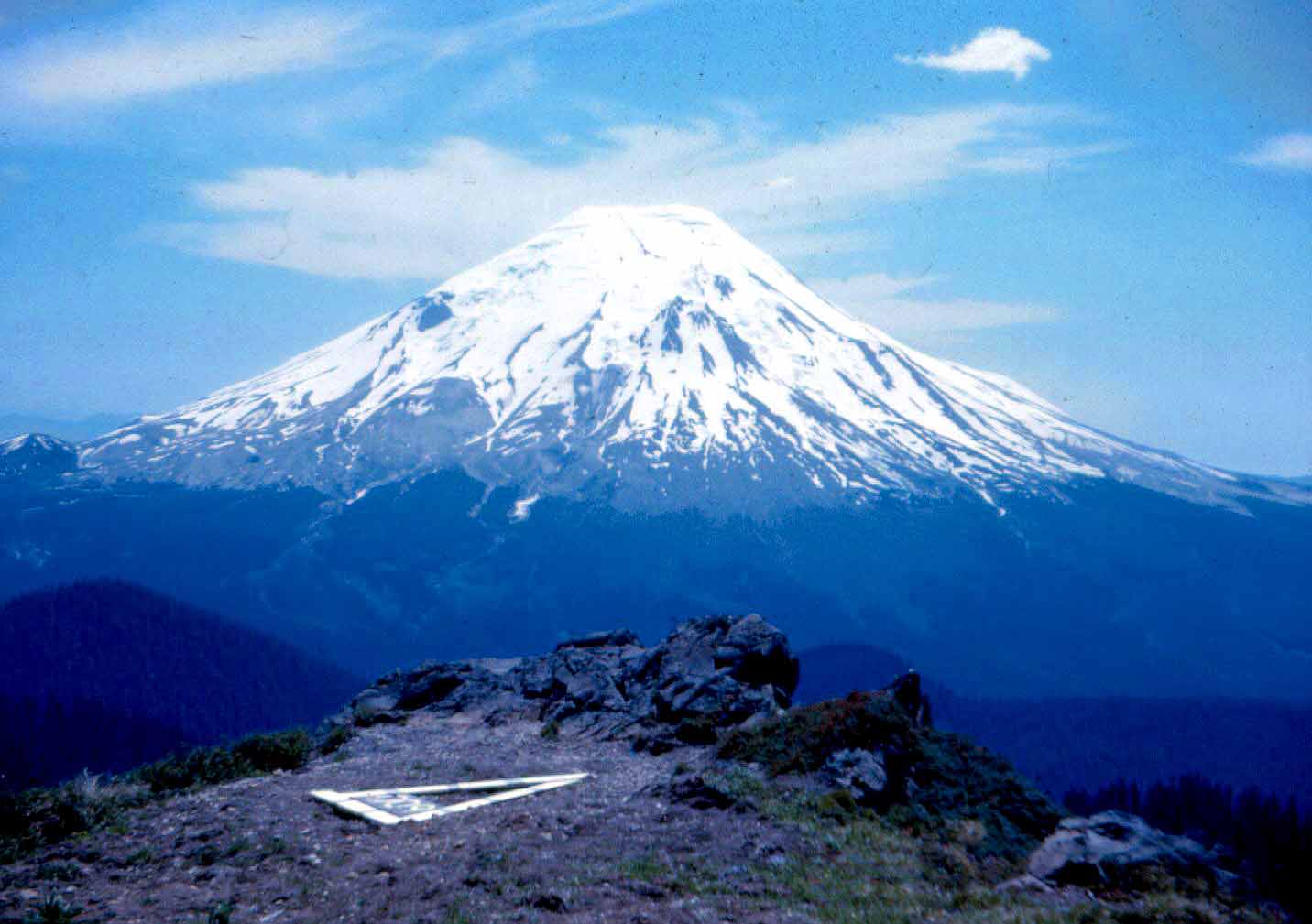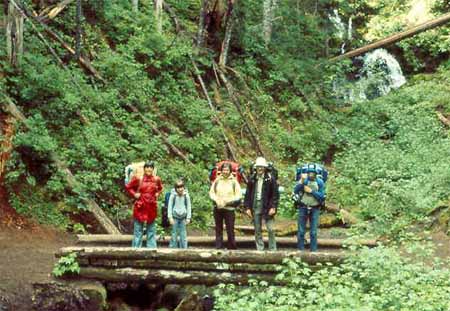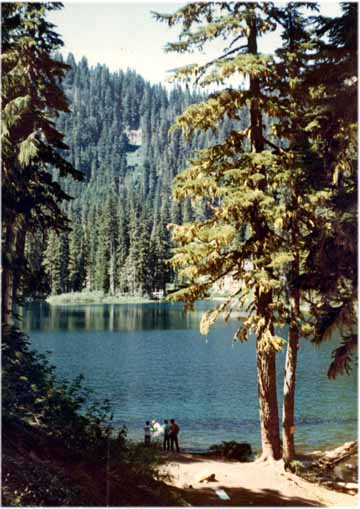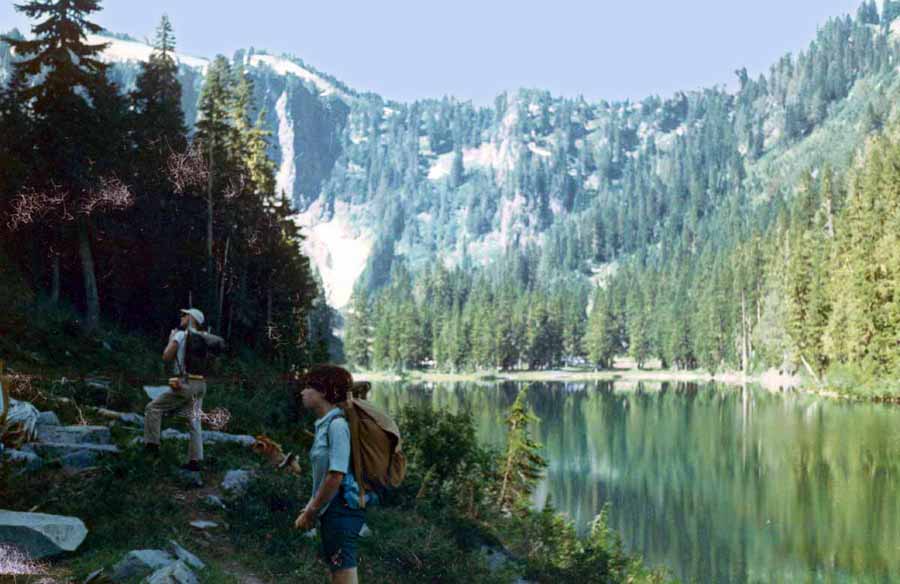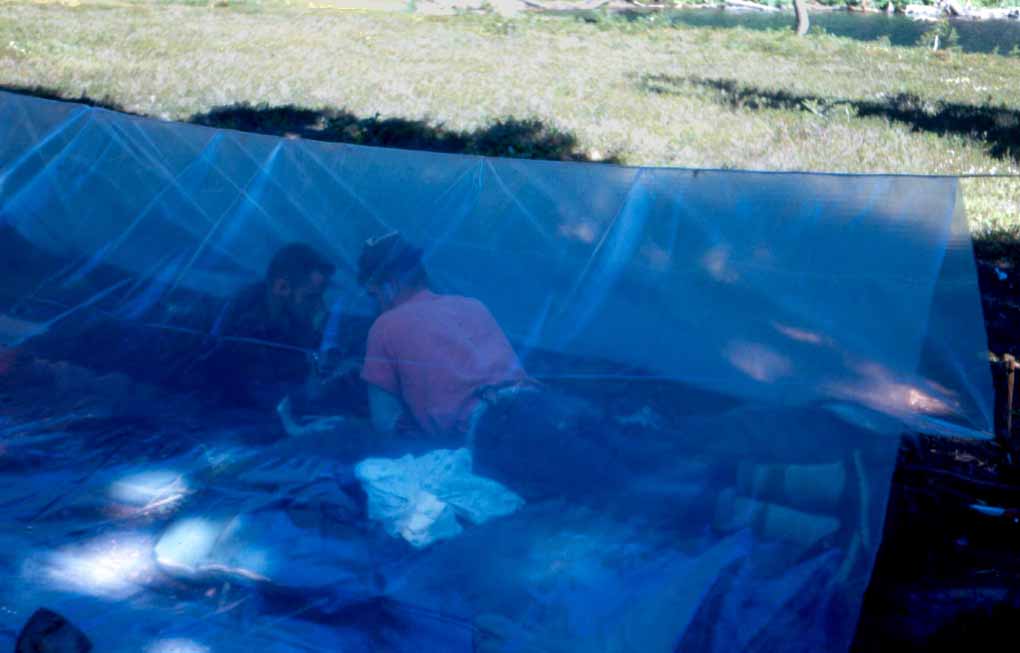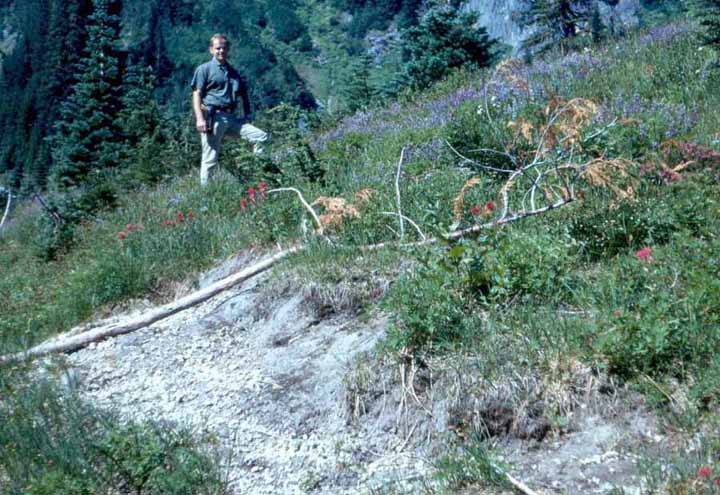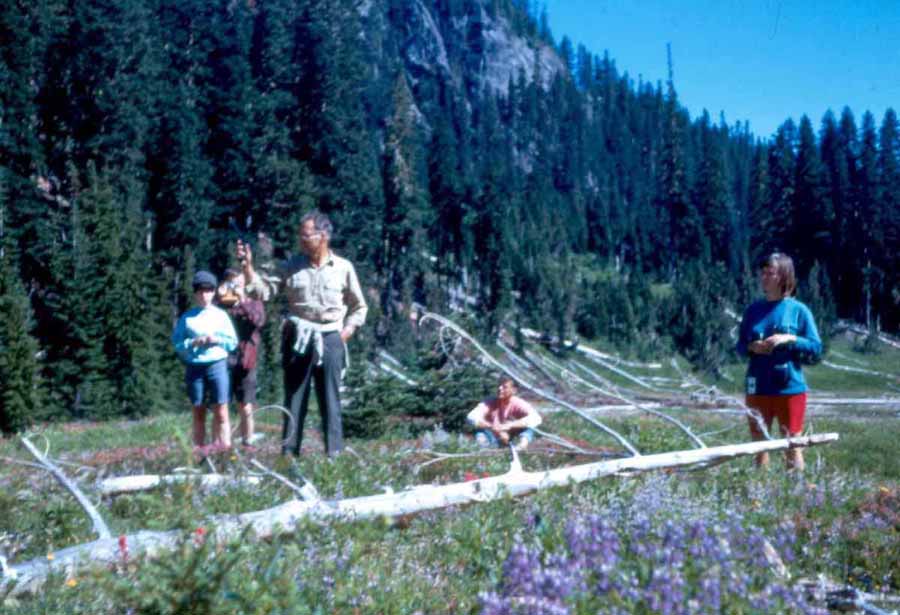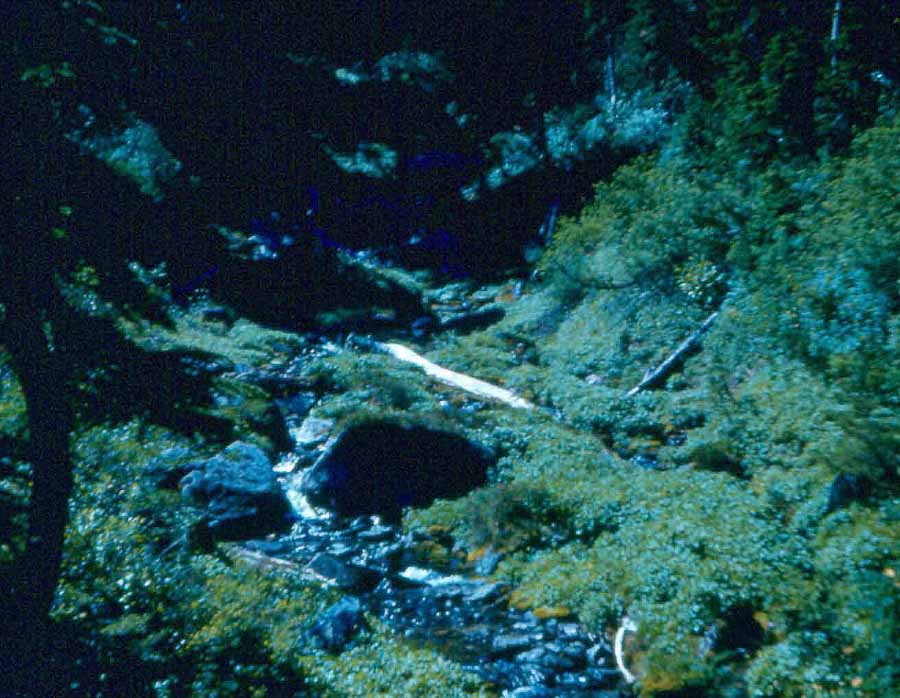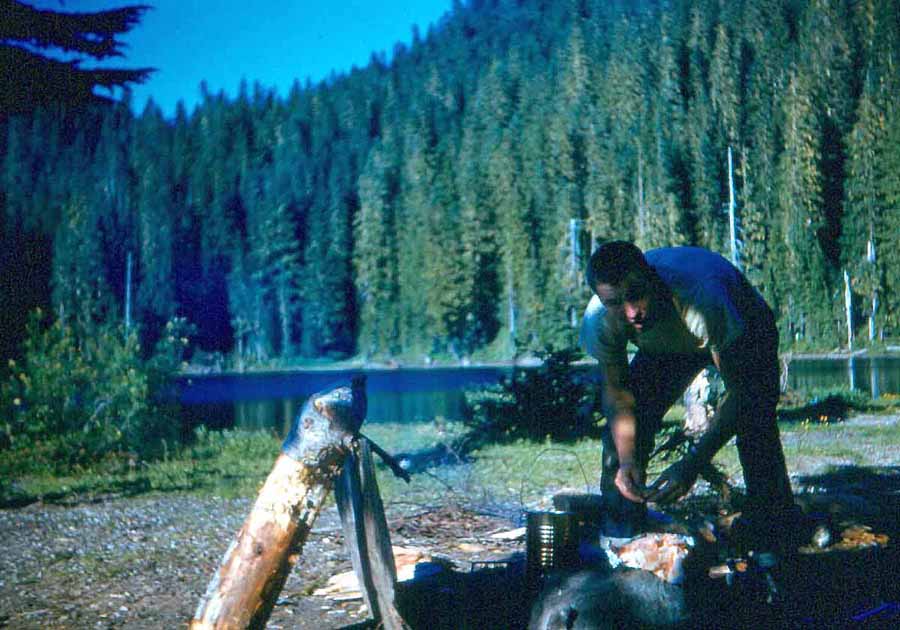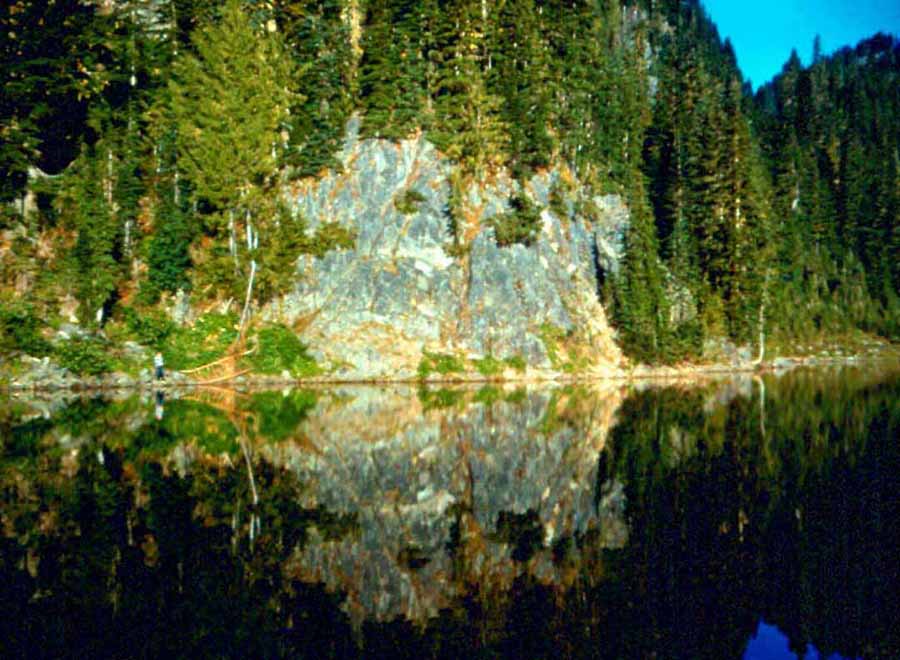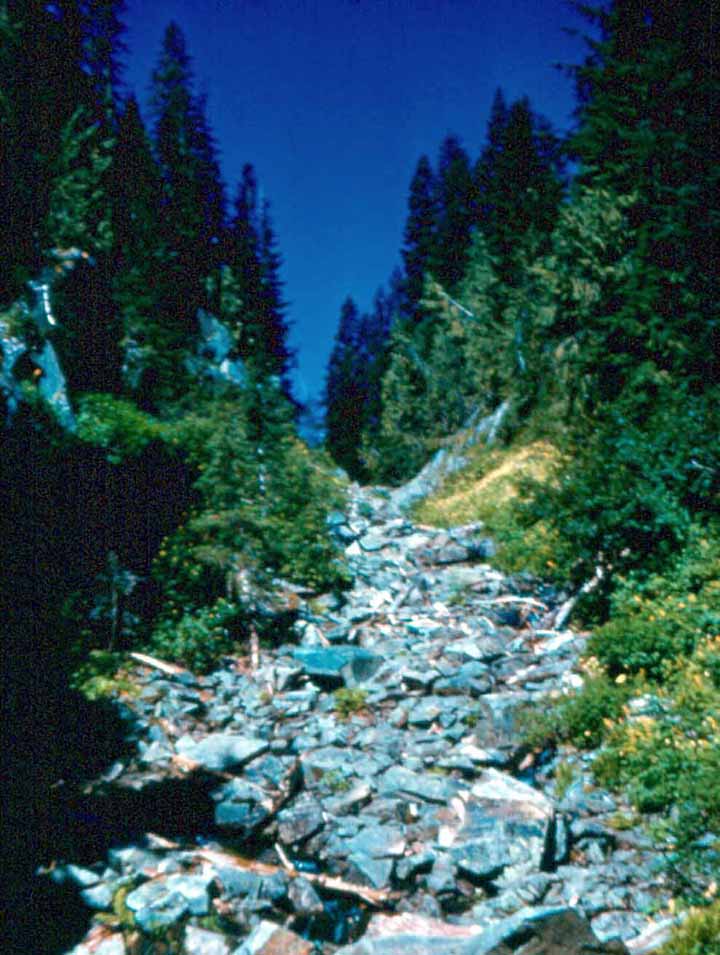 To see this group before they left Duck Cove, click
here
.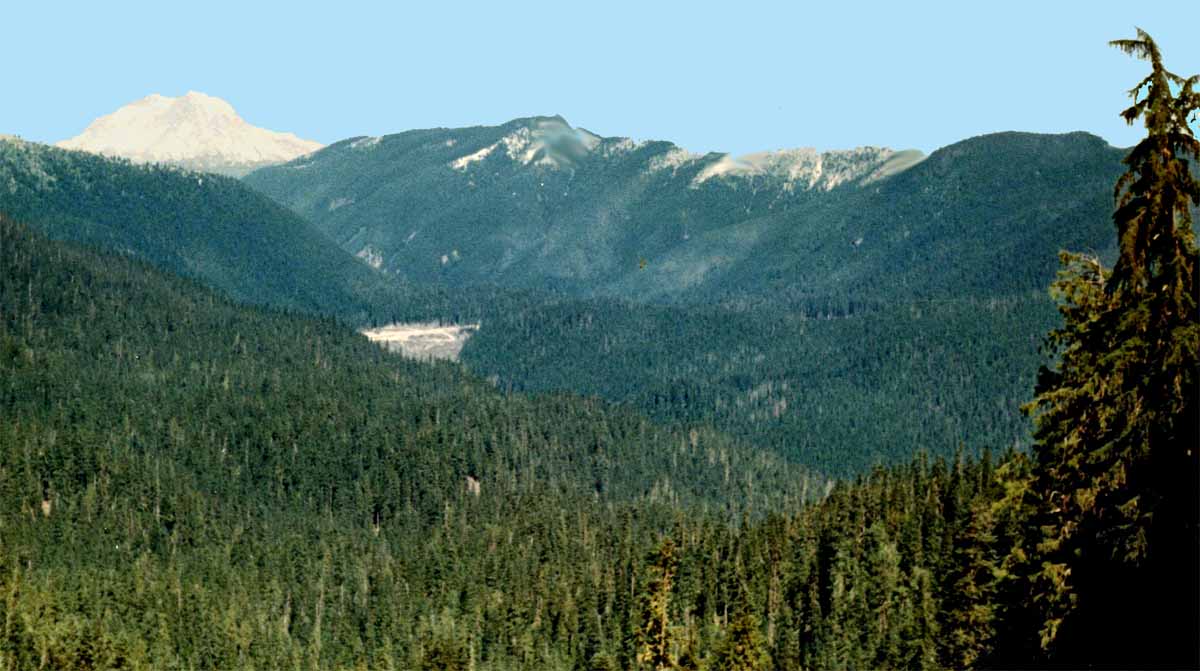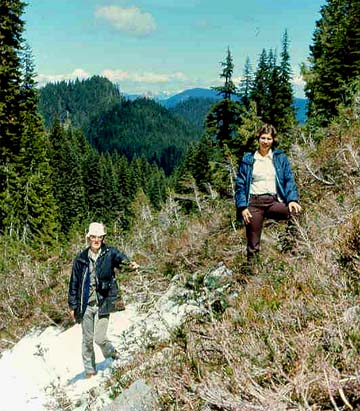 A short hike over the rock bluff and around the lake leads to what appeared to be a massive rock slide.  It is actually another feeder creek coming into Panhandle, this one from Shovel Lake.  Just like Holmstedt Lake, there was no trail to Shovel, and the easiest path was to go directly up the creek bed.  As you can see from this photo of Lar and Sal climbing the hill, it was STEEP!  

Although you can't tell it from the photo above, there were small pools of water in the stream.  I caught two rainbow trout with my bare hands in those pools.  I remember them as being at least 18 inches long, although more likely, they were 12 or so.  It was always nice to know they were there in case more traditional modes of catching dinner failed.

  After leaving Duck Cove, the trail was easy enough, pretty much staying at lake level for the first mile, we'd pass Harmony Falls (right) with its private lodge, the YMCA camp, the Boy Scout Camp, probably the Girl Scout Camp although I don't remember that one because my primary interest was in fishing at the time.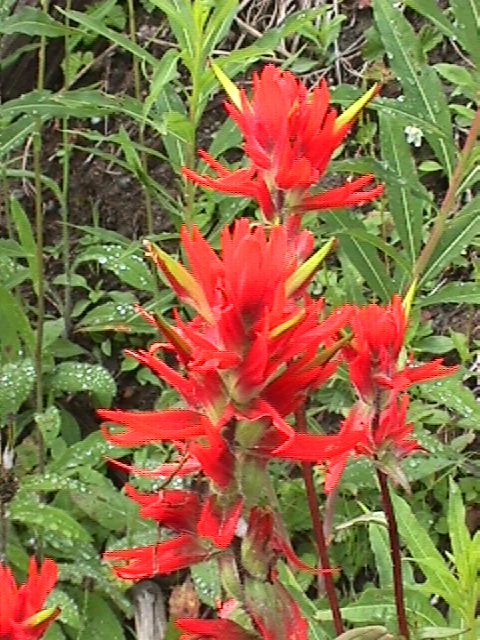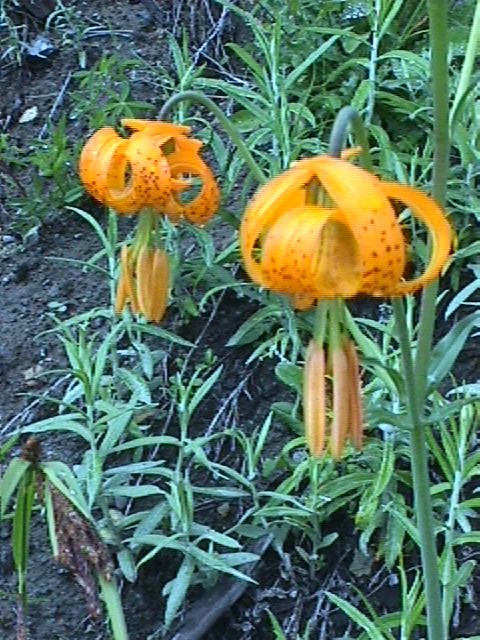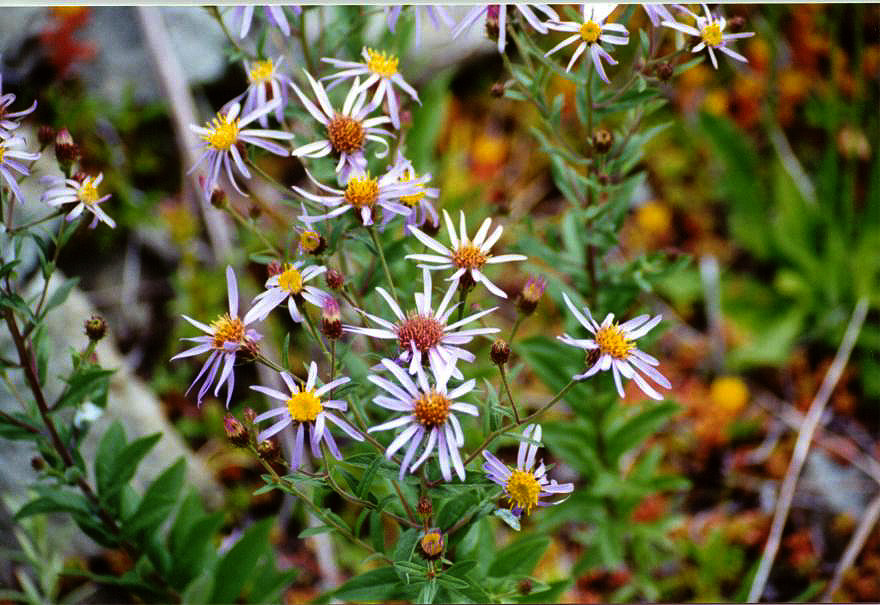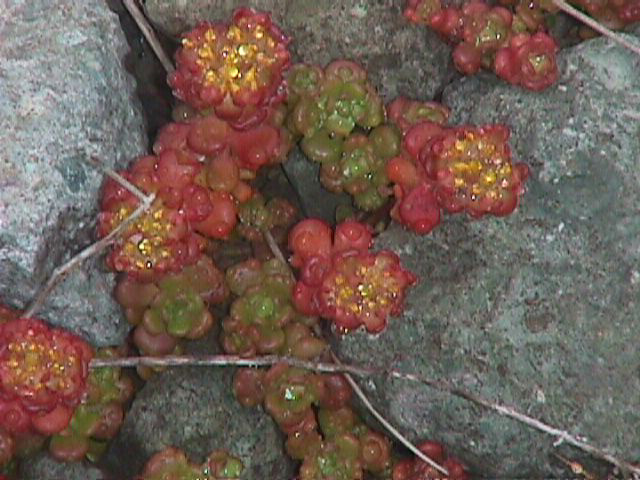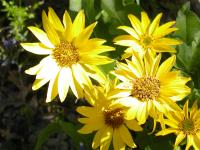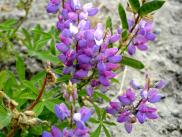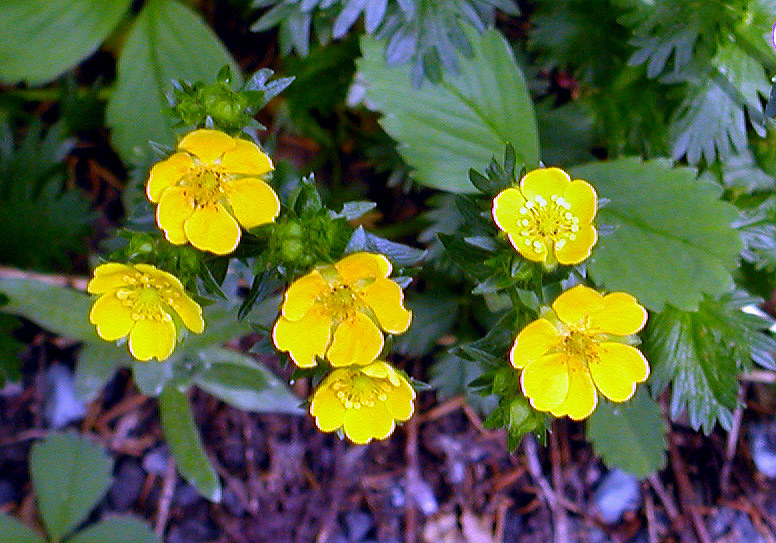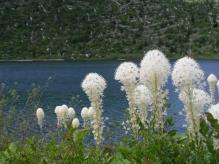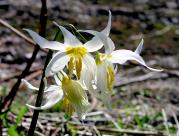 Scattered throughout this page are photos of flowers found in the high lakes region.  These are Columbine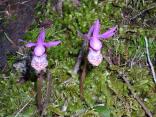 Indian Paintbrush (also seen in the photo at right)

Blue Lupine (also seen above)

Korean Fir Cone (not exactly a flower, but beautiful none-the-less)


Mt. St. Helens as viewed in the early 1960s from the north.   The photo was taken from whatis now "Johnston Ridge" in honor of the USGS volcanologist David Johnston who died there after uttering his famous report "Vancouver.  Vancouver.  This is it!" on May 18,1980.